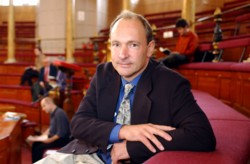 Great job getting started last week. We have a wide range of experiences and interests in the group. Here's what you need to do for tonight.
Watch the videos and read all the items on the Outline  for Sept. 4.
Start your WordPress blog. Make sure you get a theme and play with the general settings. You can add any additional pages that you'd like. We will discuss widgets and other features later. Make your first blog post on this topic:For your first post, write some introductory comments, a short paragraph or two about yourself, and then discuss your definition of new or digital media. Which phrase should we use? In regard to the resources we watched in class and your own observations, what is your impression of the pace of digital change? Be sure to engage the reading, make connections, as well as provide your own opinion. Include relevant links, images, embedded video.

More details on the Blogs page. Email me the link to your blog when you have done the post.

Do this post by 9pm the night before class.
Join the FB group and post a news item. We'll discuss more in class.
Join Twitter, if you aren't already on.
We'll discuss all of this in class on Wed.
Familiarize yourself with the website, the course outline, the course policies, and let me know if you have any questions.
See you in class.
Cindy